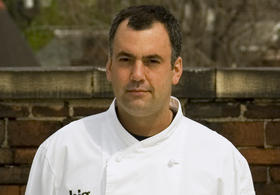 (Big Burrito)
Restauranteuer Bill Fuller, Corporate Chef of the Big Burrito group, is reading Angle of Repose.
Restauranteuer Bill Fuller, Corporate Chef of the Big Burrito group, has his plate full this summer with Wallace Stegner's 600 page, Pulitzer Prize-winning Angle of Repose.
Wallace Stegner, Angle of Repose
Susan Burling Ward is refined, educated, and strong-willed. Her husband, Oliver, is a handsome adventurer of cruder habits, who brings a pistol when he comes courting, yet who is humbled in the presence of Susan's sophistication. As we follow Susan on her first journey across the young country—"not to join a new society but to endure it"—we experience the West through the eyes of a true easterner, horrified at the lack of culture, the quickly fabricated cities, the dust, dirt and heat. Susan eventually finds herself able to appreciate the raw beauty of her new surroundings, and is even successful in building comfortable homes for her family. Yet throughout her married life she defines herself through her east coast roots, debating Oliver's worthiness as a husband and provider, and assessing what she has given up in exchange for a life of adventure and uncertainty.
Penguin
Michael Chabon, Manhood for Amateurs: The Pleasures and Regrets of a Husband, Father and Son
A shy manifesto, an impractical handbook, the true story of a fabulist, an entire life in parts and pieces, Manhood for Amateurs is the first sustained work of personal writing from Michael Chabon. In these insightful, provocative, slyly interlinked essays, one of our most brilliant and humane writers presents his autobiography and his vision of life in the way so many of us experience our own lives: as a series of reflections, regrets, and reexaminations, each sparked by an encounter, in the present, that holds some legacy of the past.
Harper Collins
Gabrielle Hamilton, Blood, Bones and Butter: The Inadvertant Education of a Reluctant Chef
Blood, Bones & Butter is the sort of hard-edged restaurant memoir we've come to expect from fellow New York chefs like Anthony Bourdain, who, coincidentally, described Hamilton's book as "simply the best memoir by a chef. Ever." But it's also the story of a young girl confused by her parents' sudden divorce, who turned to a life of crime and, perhaps even more perilous, restaurant work.
NPR
Speaking Volumes is a weekly conversation on books and reading. The program airs on 90.5 FM Mondays during Morning Edition, and Wednesdays during Essential Pittsburgh.