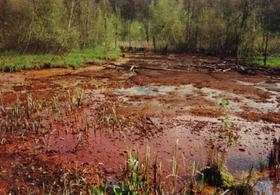 (BioMost, Inc.)
Abandoned mine drainage impacts thousands of miles of streams in Pennsylvania and elsewhere.
Can acid mine drainage be used safely and responsibly to produce hydroelectric power? BioMost, Inc. believes so. Margaret Dunn, a geologist and President of BioMost, Inc., and Tim Danehy, a project manager at BioMost, Inc., join us to discuss their plans.
Correction: A previous version of this post misspelled Tim Danehy's name.