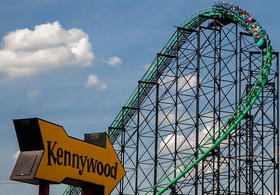 (Jeff Gamble/Flickr)
Beer may soon be on sale at Kennywood.
Kennywood Park has agreed to limit proposed beer sales to satisfy a Pittsburgh area state lawmaker who had planned to fight the park's application for a liquor license.
West Mifflin authorities approved the decision to transfer one of the borough's liquor licenses to Kennywood in April, but in an attempt to make the implementation of alcohol at Kennywood a more "safe experience," State Senator Jim Ferlo (D-Allegheny) intervened.
Now Ferlo is satisfied with the conditions Kennywood officials have agreed to in order to maintain the park's "family-friendly" atmosphere.
Park officials and Ferlo concurred that seven conditions be added to Kennywood's Pennsylvania Liquor Control Board (LCB) license application. Ferlo said the conditions involve specifications of how, when, and to whom the alcohol will be served to.
"[The conditions] deal with basically appropriate training for the personnel that will be serving the liquor. We want to limit the beer to that Lagoon area, and have an I.D. system so that there's a two beer limit and there's some control over anyone who is not appropriately allowed to be drinking alcohol," Ferlo said.
Ferlo added that if the LCB license approves the amended licensing agreement, alcohol will not be served two hours prior to the park's closing, and on school picnic days, alcohol sales will be allowed only between 1:00 and 5:00 PM. He also noted local off-duty police officers will be added to monitor area where alcohol is served.
Ferlo said contrary to what some may think, Kennywood has applied for a full liquor license, not one that just requests beer sales.
"I would hope that with these provisions we create a more safe environment," Ferlo said.
Kennywood spokesman Jeff Filicko said they're grateful to have Ferlo's support, and final approval for the liquor license transfer is up to the LCB.
The amusement park opened in 1898 and still operates two rollercoasters that date to the 1920s.