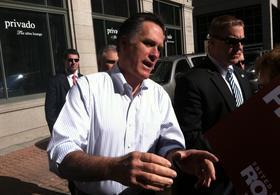 (Mary Wilson/Essential Public Radio)
Presidential Candidate Mitt Romney visited Harrisburg to open his new campaign headquarters there.
The presidential candidates are staking their claims on campaign headquarters in Pennsylvania, with the primary less than 20 days away.
Republican front-runner Mitt Romney breezed through Harrisburg to christen his capital city campaign headquarters and visited with a rope line of supporters.
"I understand there's not enough room for everybody to come inside. The roof is going to crush if you come down. So thanks for coming down, so thanks for coming down. Wish you could come inside. You could hear me speak for an hour or two," Romney said.
Rick Santorum's campaign has not laid out specific plans for a central Pennsylvania campaign headquarters. The former Pennsylvania U.S. Senator says he expects to win on April 24th, while Romney has said Pennsylvania is a critical state for his campaign.
But over at the Obama for America campaign headquarters in Harrisburg, Mark Nicastre, spokesman for the Pennsylvania Democratic party, says the Obama campaign's state headquarters are in Philadelphia, but it's important to have an outpost in the midstate, as well.
"You saw the motivation and the enthusiasm in 2008 that really translated into a lot of fieldwork on behalf of the president and on behalf of a lot of Democratic candidates here in Pennsylvania," Nicastre said.