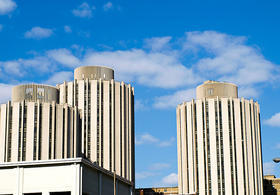 (C.J. Richey/Flickr)
A bomb threat forced Pitt students out of their dormitories at the Litchfield Towers at 2:00 AM on Tuesday.
The University of Pittsburgh evacuated four buildings this morning after receiving a bomb threat aimed at the Cathedral of Learning, the Chevron Science Building, Frick Fine Arts Building and Posvar Hall. Over the last three weeks there have been 23 threats but no explosives have been found.
Students, faculty and staff have been on edge. Pitt Vice Chancellor for Public Affairs Robert Hill told 90.5 FM's Essential Pittsburgh that the investigation continues into these threats and a $50,000 reward is now being offered for information.
The bomb threats have been made against several buildings on Pitt's campus and Hill says the university is very concerned about the psychological effect of these threats.
"We have included in our notifications information about counseling services available to members of the University community, especially students who would like to receive guidance counseling during these stressful times," Hill said.
He added that even though the threats so far have turned out to be hoaxes, they must be taken very seriously.
Pitt police have enlisted the help of the FBI and handwriting experts while trying to solve the case. They have said that they intend to prosecute anyone connected to the threats to the "fullest extent possible" under federal and state laws.
Anyone with information can contact university police at 412-624-2121 or [email protected].