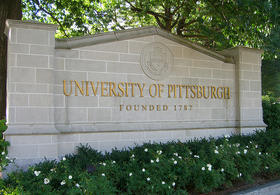 (Fred Wenzel/Flickr)
The University of Pittsburgh has received more than 20 bomb threats over the last 7 weeks, but authorities have no suspects.
There have been more than 20 bomb threats against University of Pittsburgh buildings over the last 7 weeks, but authorities have no suspects. Two new threats against multiple buildings were received Thursday, one at 10:00 AM and the other about 12 hours later.
Campus police, federal authorities and experts are stumped by the threats that have prompted building evacuations and canceled classes.
Students nervous
No bombs have been found and nobody has been hurt. Pitt Sophomore Kira Scammell said at first students didn't think much of the threats, but as their frequency increased, so did worry.
"It kind of seems like it's building up to something, and that's what worries everyone, I think. The first couple seemed like somebody was trying to get out of a test, something trivial, but there are so many, it's becoming disruptive for everyone," she said.
Although the threats received more attention after a gunman fatally shot one person and wounded several others at the University of Pittsburgh Medical Center's Western Psychiatric Institute March 8, the string of threats actually began February 13.
At first, the threats were scrawled on bathroom stalls. Lately, they've been emailed sometimes to reporters at the Pittsburgh Post-Gazette and Pittsburgh Tribune-Review.
Scammell has only had one class affected by the threats so far.
"But I know a lot of my friends have had five, six classes canceled, and now we're all really behind and we have finals coming up, and that's stressful. Even without having classes canceled I have friends that have gone home, their parents have pulled them out," she said.
Several students who live on-campus have left, either going back to their parent's home or to a friend's house and commuting to school.
Pitt spokesman John Fedele says the university is not calculating the costs of evacuating buildings and responding to the threats at this point, but added officials realize there are numerous costs every time a threat is made including missed class time and missed work by employees. Fedele says when it's quieted down Pitt will assess the overall cost.
Joint Task Force Investigating
Meanwhile, David J. Hickton, United States Attorney for the Western District of Pennsylvania, issued the following statement today on the bomb threats:
"The safety and welfare of the University of Pittsburgh community is a top priority. The bomb threats since February 13, 2012, are being vigorously, aggressively and thoroughly investigated through every possible means. The Joint Terrorism Task Force, which includes the University of Pittsburgh Police as a productive, contributing member, is actively pursuing the source or sources of these threats."
Anybody with information which may assist the investigation, is asked to contact the FBI at 412-432-4000.