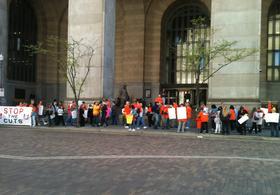 (Noah Brode/Essential Public Radio)
Protesters flood the sidewalk along the Grant Street portico of the City-County Building.
Several dozen protesters gathered outside the City-County Building in downtown Pittsburgh Wednesday to decry proposed public transit cuts.
Occupy Pittsburgh and the local Amalgamated Transit Union teamed up to demand that the state provide more funding to the Port Authority of Allegheny County. PAT is facing a $64 million budget deficit, and plans for a 35% service cut to take effect this September.
ATU Local 85 President Patrick McMahon said Pennsylvania Governor Tom Corbett must take action to fund public transit.
"After the public hearings for the next round of service cuts, our governor made some comments about our contract, and he was going to 'wait and see' what happens before he does anything with transit," said McMahon. "We should not be waiting to see. I wrote a letter to him asking him to get involved."
McMahon said he hasn't heard back from the governor's office. He said he suspects the governor wants concessions from ATU, but the union has already made compromises.
"We have made concessions — tremendous, historical concessions for this local and for any local," said McMahon. "The last contract alone, we saved them $93 million in concessions, which actually a lot of that didn't even start to take place until this January."
Act 44 of 2007 was meant to fund Pennsylvania public transit, said McMahon, but the law was rendered useless when the federal government denied the Commonwealth permission to toll Interstate 80.
"What's unfortunate about that is, Harrisburg puts their head in the sand and they are not willing to fix the problem of Act 44, and that's where we're at today," said McMahon. "Absolutely, in the Commonwealth, state funding is the key issue."