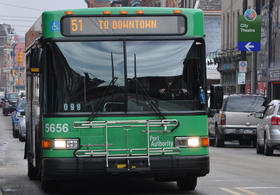 (Zach Kuntz/Essential Public Radio)
House Bill 10 will allow for private companies to begin operating bus routes in Allegheny County.
Last Tuesday, House Bill 10 passed the Senate, and now awaits Governor Corbett's signature. The bill would mean that the Public Utility Commission, not the Port Authority, would review applications to provide bus service in Allegheny County. House Majority Leader Mike Turzai (R-Allegheny), who sponsored the bill, said it will end the Port Authority's "monopoly." We talk to State Representative Mark Mustio (R-Allegheny) about what privatized bus routes may mean for mass transit in Allegheny County.
Then, at the end the this week the popular low-cost bus carrier Megabus is losing its downtown stop at the David L. Lawrence Convention Center. We'll find out why the convention center has asked Megabus to find a new stop from Mark Leahy, general manager of the David L. Lawrence Convention Center.
Note: Patrick McMahon, President of the Amalgamated Transit Union Local 85, was invited to join the discussion in this segment, but we could not reach him at the time of the broadcast. Instead, we opened the phones to get citizens' views on public transit.