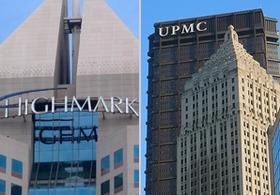 (Andy Shaindlin, Brent Moore/Flickr)
UPMC and Highmark have extended their agreement to the end of 2014.
The University of Pittsburgh Medical Center and Highmark Inc. have agreed to another extension. This one will provide in-network access for Highmark Commercial and Medicare Advantage members to all UPMC hospitals and physicians through the end of 2014.
The new deal replaces a one-year contract extension that was set to expire June 30, 2013.
While making the announcement, Pennsylvania Governor Tom Corbett said he hopes the two non-profits will continue to meet to try and hammer out a deal that will extend beyond December 31, 2014.
The dispute over in-network coverage began when Highmark, Pennsylvania's largest health insurer with 2.5 million subscribers, announced a $475 million takeover of the troubled six-hospital West Penn Allegheny Health System last June.
UPMC said Highmark's decision to purchase West Penn Allegheny made Highmark a direct competitor. UPMC boasts 19 hospitals and more than 3,000 doctors.
In recent weeks the two sides had been meeting with the help of David F. Simon, Executive Vice President and Chief Legal Officer of Jefferson Health System in Southeastern Pennsylvania. Corbett said, "David's expertise in insurance and health system finance was vital. Having a neutral third party was essential, and I appreciate David's effort on this important matter."
As part of the deal, Highmark agreed to stop pressing for legislation to force the two into binding arbitration. Highmark has said that UPMC was seeking a 40 percent increase in reimbursement payments, but Highmark spokesman Michael Weinstein would not say Wednesday whether higher reimbursements are part of the pact.
Corbett said there was a great deal of pressure put on Highmark and UPMC.
"If they did not get this done [the governor's office and the legislature] would get it done for them and I don't think anybody wants to see government get into what is really is a business relationship and I think they took that to heart and were able to resolve this," said Corbett.
For months, state legislators from the region and the governor had been pressuring the two non-profits to reach a permanent deal.
Highmark and UPMC issued a joint statement that read in part, "In recognition of special local community needs and certain unique services offered by UPMC, and to minimize access to care and rate disputes, Highmark and UPMC have agreed to negotiate rates and terms for continued Highmark member access to certain UPMC services on an in-network basis starting in 2015, including Western Psychiatric, certain oncological services, UPMC Bedford, and UPMC Venango. Highmark members enrolled in a course of treatment at UPMC will also continue to have in-network access to UPMC hospital and physician services."