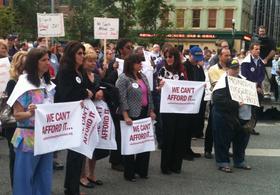 (Noah Brode/Essential Public Radio)
Activists hold signs reading "We can't afford it" and "Monopoly disguised as a nonprofit" in Market Square on Monday.
Scores of activists gathered in Market Square on Monday to clamor for government mediation in the contract dispute between Highmark and UPMC.
The Coalition for Health Care Choice wants state legislators to draft a bill that would require healthcare provider UPMC to return to contract talks with health insurer Highmark. Legislators have already written such a bill, but it is languishing in a Senate committee after passing the Pennsylvania House.
The current contract deadline is July 1 of 2013, and the two Pittsburgh-based nonprofits have stopped negotiations. If a deal isn't worked out, tens of thousands of local Highmark subscribers would be forced to pay much more to access UPMC doctors and hospitals.
Most of the speakers at Monday's rally blamed UPMC for the stall in negotiations. United Steelworkers President Leo Gerard said the hospital network is not behaving the way a nonprofit should.
"This is simply economic blackmail," said Gerard. "This is simply them trying to use their regional strength of having acquired so many hospitals to try and beat not only Highmark, but us, into submission."
One point of contention for UPMC is Highmark's plan to assimilate West Penn Allegheny Health System, but Gerard lauded the takeover as a way to save thousands of local jobs.
Loss of Access to Specialty Hospitals
Other speakers focused on the potential impacts to vulnerable populations in western Pennsylvania. Diana Ames of the Mental Health Association of Northwestern Pennsylvania said her group depends on a familiar network of doctors that mental health patients can trust.
"If there's no new, multi-year contract between UPMC and Highmark, then some of those trusted doctors might become unaffordable, and therefore it's going to cause this support system that we've created to collapse for our members," said Ames.
The region's disabled population faces a similar problem, according to Anne Nalepa of the Three Rivers Center for Independent Living. Nalepa said she and other disabled residents may lose access to specialty facilities like the Western Psychiatric Institute and the Center for Assistive Technology.
"It's literally taken decades for me to cultivate a relationship with my physicians," said Nalepa. "I don't have the time or the money to start over."
Speakers at the rally urged the activists to contact their state representatives and demand legislative intervention into the contract dispute.