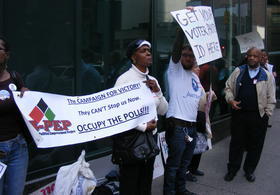 (Emily Farah/Essential Public Radio)
Last week, protesters gathered in Pittsburgh to rally against the new voter ID law.
Tuesday's election will be a dry run for the recently passed voter ID law. While voters are not required to show a photo ID until the November election, poll workers will be asking to see ID on Tuesday. This has some voting rights groups concerned. Celeste Taylor, Regional Equity Monitoring Project Director for the Black Political Empowerment Project (BPEP) and ACLU Community Organizer Ngani Ndimbie have been preparing for the potential complications at the ballots. They'll talk about what to expect from the new voting rules.