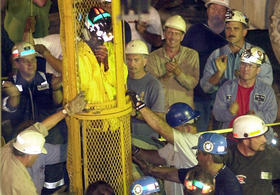 (Penn State University)
77 hours after the accident at Quecreek Mine, all nine of the trapped miners were safely pulled to the surface.
The word "Quecreek" became well-known ten years ago. Western Pennsylvania residents as well as people around the world waited, listened and watched to learn the fate of nine men trapped in the Quecreek Mine in Somerset County.
"I was actually at home getting ready to go to bed and received a call from one of my supervisors that there was an accident in Somerset County. The Quecreek Mine had breached into an adjacent abandoned mine," recalled Joe Sbaffoni, the Director of the Pennsylvania Bureau of Mine Safety then and now.
Shortly after 9:00 PM Wednesday, July 24, 2002, two teams of nine miners apiece were working the Quecreek Mine. They were using old maps and didn't realize they were close to the flooded, abandoned Saxman Mine. That adjacent mine was breached, sending millions of gallons of water into the active mine. One team of miners was able to escape. The other nine workers retreated to higher ground, still some 240 feet below the surface.
"I pretty much knew what these individuals underground would try to do. I pretty much knew what we had to do to give them a chance to survive, and hoped they were doing the things underground they needed to do," Sbaffoni said. "As it turns out, they were. They tried to escape, they couldn't. They fought their way back up."
The first step was to drill a 6.5 inch hole down to where the miners were believed to have retreated so that fresh, warm air could be pumped to the nine men. That pressurized air also created a protective bubble around the miners, keeping the flood waters away.
"I was standing right near the pipe. I heard tapping. I did not hear nine taps, I heard tapping. I knew somebody was alive down there," Sbaffoni said.
Then the drilling of the rescue hole could begin. 77 hours after the accident, all nine miners were safely pulled to the surface.