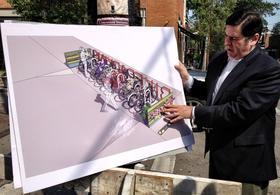 (Deanna Garcia/Essential Public Radio)
City Councilman Bill Peduto shows one possible design for the new on-street bike corrals.
The bicycle parking will accommodate between 6-12 bikes or more when complete. The corrals will be in Shadyside at the corner of Walnut and Bellefonte, and will be on the street. In an area where parking is a hot commodity, area business leaders were willing to give up a couple of spaces for the project.
"But what we found is an area where there is no parking, on both sides, so we're not losing one parking spot. At the same time, we're making it safer because it is constantly used by people illegally," said Pittsburgh City Councilman Bill Peduto.
The project came to life about a year ago when the Shadyside Chamber of Commerce asked the city council for bike racks.
"We have bike racks all throughout Shadyside — they're called trees, but they kill them," said Peduto.
So in November, the council allotted funding for dedicated bike parking through a Neighborhood Needs Grant. The total cost for the project is about $3,000. It's already gotten approval from the property owners, the Shadyside Action Coalition, and the Shadyside Chamber of Commerce. Now the bike corral plan, which includes a couple of different designs, will be sent to the Art Commission for approval.
"It's now on to the bureaucratic process. Art Commission approval will hopefully be there in June, with approval by their next meeting," said Peduto. "We'll also be creating a standard for the city of Pittsburgh to be able to utilize this in other neighborhoods as well."
The ultimate goal is to have at least one bike corral in every neighborhood business district in Pittsburgh.