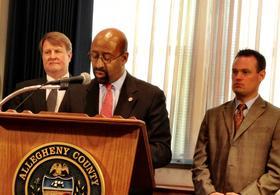 (Deanna Garcia/Essential Public Radio)
Philadelphia Mayor Michael Nutter spoke about proposed budget cuts, joined by Rich Fitzgerald (left) and Luke Ravenstahl (right)
Three of the most powerful non-state office holders in Pennsylvania have made their opposition to Governor Tom Corbett's proposed budget known. On Thursday, Philadelphia Mayor Michael Nutter joined Pittsburgh Mayor Luke Ravenstahl and Allegheny County Executive Rich Fitzgerald to discuss how proposed cuts would affect the state's two largest metro areas.
"The proposed cuts in the governor's budget will have wide ranging effects in every city, in every county, in every neighborhood in the commonwealth," said Nutter.
Among other things, the budget eliminates cash benefits by cutting a $319 million General Assistance program that provides cash assistance benefits to about 60,000 Pennsylvanians. Cuts to mental health services and transit also worry the mayors and county executive.
"If the state cutbacks come as talked about, they're going to have a big impact on transit, on economic growth in downtown Pittsburgh, throughout the region, in Oakland, at the airport, and if the human services are not provided that we need, it's going to impact a whole lot of people and have a detrimental effect," said Fitzgerald.
Fitzgerald touted Pittsburgh's job growth, and added that it was only one of five areas in the U.S. that has seen job growth recently. Mayor Ravenstahl echoed the praise, but said the growth is delicate and depends upon a strong relationship with Harrisburg.
"We need the state to help. We need them to understand what our issues are and to continue to be a partner, because without them, I'd hate to see all of the strides we've made, all the success we've had stop or take a slide back, and that's how serious this is. That's what this discussion is about," said Ravenstahl.
Mayor Nutter said he wants to work to maintain an East/West – West to East partnership.
"Philadelphia wants to be a better partner with Harrisburg and the rest of the commonwealth," Nutter said. "We've accomplished great things together, but we can do more, but we must lift our voices and be heard in the halls of Harrisburg and all across the commonwealth of Pennsylvania that many of the proposed budget cuts, unfortunately, will have a negative impact on this great commonwealth."