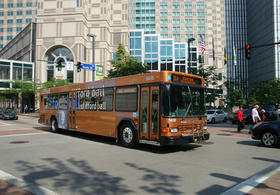 (Erik Weber/Flickr)
Local business leaders are warning that they could be seriously hurt by impending cuts to PAT's bus service.
Representatives of Pittsburgh's business community are warning state legislators that local companies would be seriously hurt by the Port Authority of Allegheny County's plan to cut service by 35%.
The Port Authority plans to drop 46 of its 102 routes in September, a necessary response to its $65 million budget deficit. The authority went through a similar round of cuts last year.
At a hearing of the Pennsylvania House Democratic Policy Committee Thursday, Allegheny Conference CEO Dennis Yablonsky said the current cuts would set off a chain reaction.
"This 35% would be followed by additional cuts in the next year, and further cuts in the next year," said Yablonsky. "We would begin a death spiral that would leave us with effectively no functioning public transit system."
Yablonsky said the cuts would also halt the recent momentum gathered by Pittsburgh's business sector.
Pittsburgh Downtown Partnership President Jeremy Waldrup said restaurants, retailers, and hotels are particularly at risk because their hours extend beyond the traditional workday.
"We have service businesses where 100% of their employees, management included, all take public transit," said Waldrup. "These folks are often living on the margins anyway, so there's no ability for them to get a [parking lot] lease."
Not only would existing business be hurt, but potential corporate residents would be discouraged from entering the local market, according to Lynn DeLorenzo, Vice President of PWC Solutions, a local development company. She said public transit availability has become a major factor in companies' location decisions.
"Everybody has to have that component," said DeLorenzo. "You can no longer fully rely on the automobile, especially in the Downtown market where many people are coming by public transit."
Proposing a Solution
Sustainable Pittsburgh President Court Gould said the Port Authority's $65 million dollar budget deficit should be closed with a three-pronged approach. He said the state should provide more funding, the transit union should do more to address legacy costs, and local governments should pitch in more money as well.
"Allegheny County and the city of Pittsburgh must step up to meet the expectations for a higher local share of funding," said Gould. "This could include raising the drink tax back up to 10%, or other sources, and maybe this calls for a discussion about enabling legislation out of Harrisburg for a local referendum."
Gould's proposal echoed that of Allegheny County Executive Rich Fitzgerald, although Fitzgerald noted that the Amalgamated Transit Union Local 85 has already made multiple concessions.