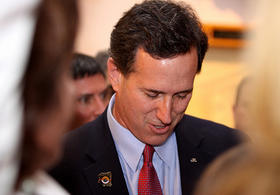 (Gage Skidmore/Flickr)
Rick Santorum announced that he was suspending his campaign in Gettysburg today.
Former U.S. Senator Rick Santorum kicked off his presidential campaign in Somerset, Pennsylvania last June and has brought it to an end just a few miles to the east in Gettysburg.
"While this presidential race for us is over for me — and we will suspend our campaign today — we are not done fighting. We will continue to fight," said Santorum.
The two-term Senator's campaign exceeded all expectations. He was outspent by every other major Republican presidential contender, but pulled off an upset win in the Iowa caucuses. Santorum quickly emerged as Mitt Romney's main contender for the Republican presidential nomination.
"Against all odds, we won 11 states. Millions of voters, millions of votes. We won more counties than all the other people in this race combined," said Santorum.
Those 11 wins are the most for a Republican runner-up since 1976, when Ronald Reagan challenged Gerald Ford for the party's nomination.
The announcement comes just days after the Romney campaign announced it would spend more than $2 million on TV ads in Pennsylvania.
"We made a decision over the weekend," said Santorum, appearing with his family. "We were raising issues, frankly, that a lot of people did not want raised."
Santorum spoke with Romney before the announcement and Romney, according to a source close to the campaign, asked to meet with him sometime in the future.
In a statement, Romney called Santorum "an able and worthy competitor," and congratulated him on his campaign.
Romney has more than twice as many delegates as Santorum and is on pace to reach the 1,144 needed to clinch the nomination by early June.
Suspending the campaign allows Santorum to keep paying off nearly $1 million in debt, according to recent Federal Election Commission filings. Those debts include about $500,000 for media consulting and tens of thousands more for telemarking and online advertising, records show.
Corbett Reacts
At following a tour of a manufacturing facility in Bridgeville Tuesday Pennsylvania Governor Tom Corbett learned of Santorum's announcement.
"We wish him and his family, and particularly Bella, our best and we'll keep her in our prayers," said Corbett.
Corbett was not as surprised as others at how well Santorum performed in the race. "He said he was run for Congress against Doug Walgren and I think we all kind of looked at him and said, 'yeah, go ahead, good luck kid,' nobody believed he would do it. He worked his butt off and he won. Then he won reelection. Then he said he was going to run for the Senate and we all kind of went, 'oh, ok,' and he won. So you should not underestimate Rick Santorum."
The Associated Press contributed to this story.