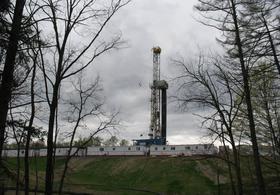 (WITF)
Shale Drilling Rig in Central PA
The Pennsylvania Department of Environmental Protection (DEP) will be hosting online information sessions about the implementation of Act 13, also known as House Bill 1950, which was signed into law by Governor Tom Corbett in February.
According to the DEP, Act 13 will further protect the environment as well as tighten the regulations on the natural gas drilling industry. However, environmental groups say that HB 1950 imposes the smallest impact fee in the nation, and if counties agree to accept revenues from the fee, they must allow drilling in all zones except heavily populated residential areas.
In order to educate people on the new law, the DEP will be hosting four 1-hour sessions.
The first session, to be held on March 27, is a general overview of what the act is, different environmental provisions, and what is staying the same and what is changing.
The April 3rd webinar will focus on how the permitting process has changed and notifications.
Session 3 on April 10th will detail increased setback distances from wells to buildings and streams, as well as new containment and control measures if there is a spill, and new frack fluid disclosure provisions.
The final session on April 17 will examine inspections and enforcement, including stronger penalties that the DEP can impose as a result of the new law.
Kevin Sunday of the DEP says that these sessions are not just for environmentalists.
"These online sessions that we are hosting are for everybody. So whether that is an environmental group, a local government official, or just the general public that wants to know more about how Act 13 continues to responsibly move forward with this industry – they are more than welcome and we encourage them to join in."
Sunday believes passing Act 13 is definitely moving in the right direction.
"This Act is the biggest step forward in modernizing our oil and gas regulations in almost 30 years. It is a very important piece of legislation and we'd certainly encourage everyone who has any interest to sit in on these sessions."
Sunday says the sessions will be posted on the DEP's website after the webinars.