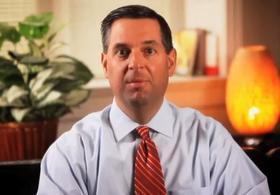 (David Freed/YouTube)
Cumberland County DA David Freed is the only Republican in the race to become Pennsylvania's next state attorney general.
Cumberland County District Attorney David Freed is the only Republican in the race to become Pennsylvania's next state attorney general. His candidacy was made official last week when he filed more than 7,000 signatures, seven times what he needed to be on the ballot. The deadline to submit nominating petitions passed February 15.
Freed's only Republican challenger, State Senator John Rafferty, ended his campaign in January after learning Governor Corbett planned to support Freed. Rafferty's early exit allowed Freed to easily win the endorsement from the Pennsylvania GOP last month and sets him up to breeze through the April primary unopposed.
"It allows us to focus on the fall and the challenge we face. In Pennsylvania, Republicans are at a registration deficit. Democrats have about a million more voters than Republicans do. We need to be able to marshal our resources and for that reason, it will help our candidacy by letting us get out and get to know the voters," Freed said.
The state attorney general's office has gone to a Republican each time since it became an elected position in 1980. But Freed doesn't plan to take anything for granted.
"I have respect for both of the announced [Democratic] candidates, and I believe either one will present a significant challenge. I've been through numerous elections and it would be a grave mistake to underestimate anybody on the other side of an election," Freed said.
The two Democrats seeking their party's nomination in the April primary include former Lackawanna County prosecutor Kathleen Kane and former Congressman Patrick Murphy.
Mr. Freed is in his seventh year as Cumberland County District Attorney and is the son-in-law of of former state Attorney General Leroy Zimmerman, who has ties to Governor Corbett.
Pennsylvania Democratic spokesperson Mark Nicastre said Freed's ties to the governor introduce conflicts of interest that will hurt him in November and boost chances of a Democratic win.
"David Freed is facing significant conflicts of interest, conflicts that call into question his fitness for the job and Governor Corbett's judgment. The Attorney General's main duty is to keep the governor in check. By endorsing Freed, Gov. Corbett is attempting to hand-select his future watchdog," Nicastre said.
Freed said he's running on the premise of his "boots-on-the-ground experience" in state courtrooms and law enforcement.
"I am the only candidate in this race who has been a chief law enforcement officer. I've been an elected district attorney. I've spent my career making the gut decisions that a chief prosecutor has to make. I believe that's what sets me apart," Freed said.