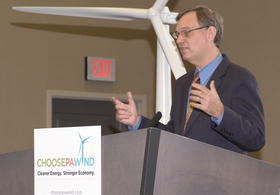 (Jenelle Pifer/Essential Public Radio)
Former DEP Secretary John Hanger was among those spoke at the launch event for the ChoosePAWind website.
"I don't think the average consumer knows they have a choice about where their electricity supply comes from," said Katie Bellezza, marketing manager at EverPower Wind Holdings, Inc., at Thurday's ChoosePAWind website launch. A new wind energy coalition rolled out the program in Pittsburgh with the goal of educating the public about the benefits of wind energy, and how to buy it locally.
Currently, Pennsylvania has the capacity to meet 6.4 percent of its energy needs from wind, Bellezza said. But in 2010, only 0.8 percent of the energy consumed in the state came from wind generated in the commonwealth, according to the most recent figures from the Pennsylvania Department of Environmental Protection.
Usage is low, largely, because wind is more expensive. Switching to wind power would add about $12 per month to the average home's electricity bill. At a time when energy prices are falling, convincing consumers to pay more might be a tough sell.
"In the past few years energy prices have been much higher than what they are today. And we're asking that some of that savings be put toward Pennsylvania wind energy so additional wind farms in PA will be viable and the industry will continue to grow," Bellezza said.
The price of Pennsylvania wind power has come down substantially over the past decade and will continue to fall as more customers adopt the energy source. The price, however, will remain slightly higher than rates seen in other states due to Pennsylvania's geography and lengthy permitting process according to those gathered Thursday. Currently, most of the wind energy consumed in the state comes from Texas and Illinois.
The coalition focused instead of the industry's other benefits: job creation and sustainability.
Bob White, president of AES Wind, LLC, said his company operates one wind farm in the state and employs hundreds of workers for construction, engineering, environmental consulting and legal services. Moreover, the project has paid more than $1 million in royalties to land owners, as well as $250,000 in local taxes.
Bellezza said the industry could create a particularly large boost in manufacturing jobs.
"We want to see what components can be made here locally, and get more of the old steel industry switching over to creating components that can be used in wind turbines and connecting the manufacturers with those suppliers," Bellezza said.
On the environmental side, John Hanger, special counsel at Eckert Seamans Cherin Mellott, LLC, and former Pennsylvania DEP Sectretary, urged the public to consider the long-term sustainability of its daily choices.
"If you choose PA Wind, you are avoiding 100 percent of the mercury, soot, smog-causing and acid rain-causing pollution that would otherwise be caused by the electricity you get," Hanger said.
He also cited the poor air quality in Western Pennsylvania, and highlighted the use of wind power as a potential solution.
Pennsylvania hosts 17 operating wind farms.