For the third month in a row, the Pittsburgh region has had a record number of jobs. According to Pittsburgh TODAY, this rise in non-farm jobs has put Pittsburgh over pre-recession employment numbers.
Doug Heuck is the Program Director for Pittsburgh TODAY, a non-profit that provides timely statistical pictures of Pittsburgh life. He said compared to other cities, the Pittsburgh region had strengths that kept the worst of the recession away.
"By virtue of, you know, some luck perhaps with PNC, we're at one of the areas where financial jobs have been growing, which is an anomaly across the country," Heuck said. "That, and some of the Marcellus Shale related activities plus the strong universities and medical facilities, that's what's really put us in this position of strength."
While Heuck didn't have specific numbers, he believes the effect of Marcellus Shale on the Pittsburgh economy is significant.
"There's a lot of drilling going on, there's a lot of related economic activity, so I feel very confident to say that [Marcellus Shale] is a very big part of that," Heuck said.
The total number of non-farm related jobs rose by 26,700 from December 2010 to December 2011, and the job growth rate was higher than other cities such as Cincinnati, Baltimore, and Philadelphia. According to Pittsburgh TODAY, Pittsburgh had a higher job growth rate during the last 12 months than any other benchmark city.
This relatively quick economic turnaround has not been seen by the Pittsburgh region in past recessions. Over the past few decades, the Pittsburgh region was much more flat going into recession and would come out much more slowly. However, Heuck said this pattern changed with this recession.
"What's unusual now, and really is kind of a terrific best of all worlds scenario, is that we went into the recession later, we didn't go nearly as deep, and we're coming out if at a much quicker rate than other regions," Heuck said.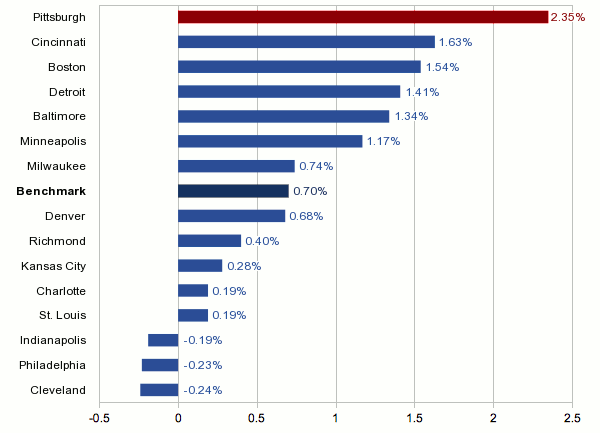 Pittsburgh TODAY's report put the Pittsburgh region ahead of all the other cities tracked, and well beyond the benchmark average.